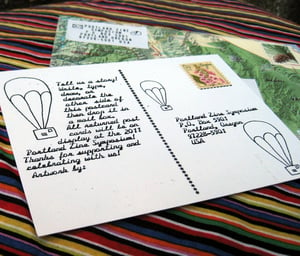 $

5.00
Be a part of the 2011 Portland Zine Symposium, even if you can't physically be there!
Help support the Portland Zine Symposium! For $5 you can purchase this self addressed stamped postcard. One side of the postcard is blank and ready for you to write, draw, or otherwise decorate. Then you can sign your name to it and drop it in a post box *.
All returned postcards will be on display in a gallery at the 2011 Portland Zine Symposium, August 6-7, 2011 in Portland, Oregon.
The Portland Zine Symposium is free conference and zine social exploring facets of independent publishing and DIY culture. The Portland Zine Symposium is a two day event held in Portland, Oregon every summer since 2001. It consists of two days of of workshops, panels, discussions, games and tabling of zines and independent media.
*Postcards sent outside the United States will contain a pre-paid International Reply Coupon (IRC). The IRC can be taken to the post office and exchanged for International Postage to the United States.